BOD/COD UV Online Analyzer <model BOD-U01>
In 2008, Ministry of Industry declare the environmental regulation stated that any factories which released waste water more than 500 m3/day must employ the online monitoring system to report BOD,COD,Watt hour and flow rate continuously to Department of Industrial Works (DIW).

However, at that time, there were only imported COD/BOD online analyzer and its price was unreachable.

To make the environment regulation more practical to Thai Factory, Federation of Thai Industries and Department of Industrial Works inquired Global Star Technologies Co., Ltd. to develop Thailand-made COD/BOD Online Analyzer by chemical titration method. After COD/BOD Chemical Online Analyzer was finished developed and released to the market. BOD/COD UV Online Analyzer was developed afterwards. Click DIW Agreement for more detail.
The analysis method is based on the principle that UV light of 254 nm wavelength is effectively absorbed by bio-organic compound.  UV Light will be beamed through a water sample in a clear glass tube, its absorbance will be correlated with the actual BOD5 and COD values of that water sample (from a certified lab) using the linear regression method.  After the correlation is determined, it can be used to convert UV light absorbance of a similar water sample to BOD and COD value.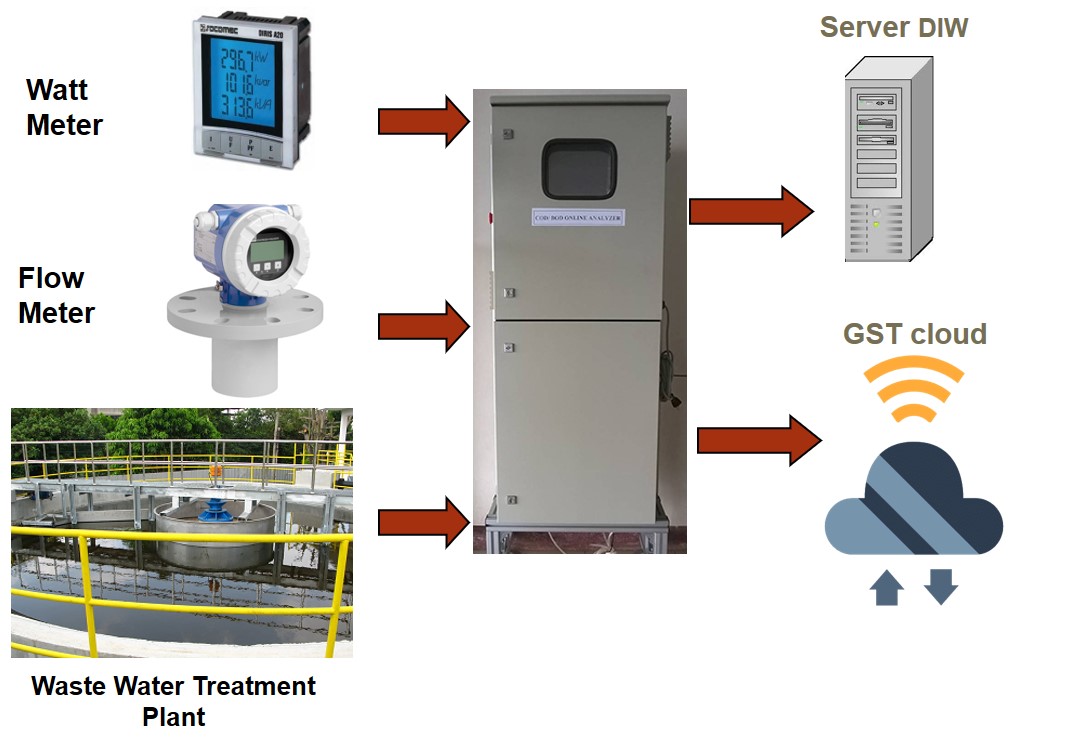 BOD/COD UV Online Analyzer Overview
Determine BOD and COD value using standard 254nm UV and visible light absorbance method correlated with certified laboratory measurement.

Automatic compensation for sample water with mild cloudiness (suspension solid) using visible light

Automatic self calibration function using RO water as a blank sample.

Pump sample water up from sampling pond using a peristaltic pump with about 1 Bar of suction head.

Automatic self-cleaning for the optical measuring cell with special cleaning solution.

Easy to install and maintenance, no submerged measuring cell (no algae and other contaminants due to submerged measuring cell)

Support for Data transfer to the Department of Industrial Works (OPMSClient) and Global Star Technologies server
Hardware Features
Comply with CE/IEC for safety standard and wiring standard.

Self restart after any power interruption.

Provide external alarm contact ready to connect to any alarm system to warn an operator or security personal for any discrepancy event.

Equipped with lightning and surge protection
On-Line Communication Features
Require low communication data transfer (normally less than 10 K Byte per day).

Support online communication such as Telephone line ADSL modem, 3G/4G Internet air card or Internet LAN line
Analysis Method: UV absorbance (wavelength 254 nm) and compensated with visible light
Measurement: BOD range 0-40 mg/l (normal range can be adjusted according to customer requirement).COD will be converted from BOD which are calculated based on correlation from chemical laboratory's data or historical correlation.
Accuracy: ±10% of measuring range (callibrated process)
Communication support: RS485 Modbus Protocal, Ethernet,USB, Analog input 4-20 mA
Operating systems: Windows 32 bits OS
Display screen: 10.5" LCD Touch screen
Cleaning solution: GST Solution#2
Power supply: 220 VAC 50/60Hz